EPOS SOFTWARE - Avatar
Avatar, from intralia.com, is a complete Retail / Wholesale environment, encompassing Head Office administration, Back Office control and full point of sale functionality.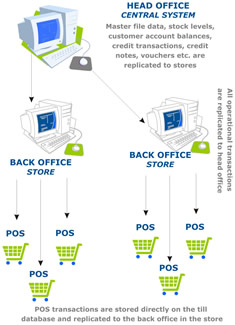 Avatar is a Microsoft Windows™ based solution, with an embedded Sybase SQL Anywhere database, which allows for real time data transfer between tills and Back Office, and Back Office to Head Office.
The major features of Avatar are:
Creditors.
Debtors.
Merchandising.
Inter Branch Transfers.
Multiple Packs Per Product.
Colour / Size Matrix.
Full Stock Control.
POS Functions – Cash / Credit Sale, Refunds, Laybyes.
Multi Buy Promotions.
Purchasing.
Management Reports.
Analytical Reporting, with drill down capability.

For more detailed information please contact us on epos@intralia.com.
intralia.com provides professional business to business IT solutions.
Our extensive and varied experience allows us to offer our clients a wide range of systems and services which maximises efficiency, increases productivity and delivers security, whilst also being cost effective and adding real business value.